Testimonials
---
09/19/23
"We began using LabNaturals Acetyl Glutathione for our seven year old dog (mastiff/German shepherd mix) who had been experiencing joint pain. Within a couple weeks of use, he no longer hobbled around, and his energy levels were significantly improved. He seems like a new dog! We're so happy that his quality of life has improved so much. Thank you to the LabNaturals team for providing our dog with such a great product and amazing customer service!"
-B. F.
---
08/22/23
"The 12 year old greyhound, Irish is feeling great and Ralph's Immunity caps help him tremendously. Thanks to you!"
- S. L.
---
4/4/23
"I'm thrilled to have MAA/LabNaturals in my world. Huge fan, loyal customer."
- S.L.
---
4/4/23
"Can't tell you how much Ralph's Immunity is helping my old Retired Greyhound! I'm certain it was the reason my other old retired racer lasted until last month when he took wing. He had been sick, but Ralph's Immunity gave him a jump start and kept him living well a bit longer. Thank you for your commitment to living well and helping all of us! "
- S.L.
---

02/21/23
"Good Day Susan,
I've been faithfully applying your Greyhound Corn/Callus cream twice a day.
It was drawing the corns out of the three pads. The 3rd broke off this morning. I have attached two photos for your review. Appreciate your help!"
Regards,
- J.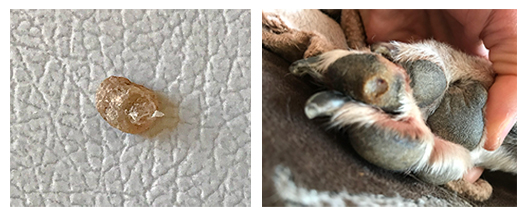 ---
12/02/22
"Susan, I know you have a busy few days ahead with your sale and I hate to bother you, but I just have to share with you how thankful we are for the scripts we have from you for our 12-year old Cali girl. We are in Williamsburg VA this week. We just took her on a 3-mile walk and she's ready for more. She's so happy, and so are we.
I'm also happy with the Lab Naturals products I've ordered for myself!
Just reordered everything. Thank you for the friends and family sale. One of these days I'll get in there to see you and give you a hug.
Thanks again. Have a beautiful holiday season. God Bless!"

- L.
---
11/10/22
"I love MAA – Lab Naturals. Found MAA many years ago for help w/greyhound corns. Been purchasing the Acetyl – Glutathione and NAC for a while now. I love the products.
Then started a couple of months ago purchasing the Ralph's Immunity for my 2-11 years old Greyhounds. I see a shift in their daily life – it is helping them. They deserve this product.
When Face Rx launched – being a huge fan & having the trust I do w/MAA and Lab Naturals it was a no brainer for me. I am a health and wellness nerd and eat/live well. That reflects in how my skin looks and my body feels.
That said-
I wanted to incorporate the Face Rx w/Peptides and Glutathione into my daily wellness routine.
My skin feels and looks more hydrated and has a slight glow. I know this product is good for me and I am super excited about incorporating this into my health and wellness toolbox.
I purchased and love the Vitamin C skin serum as well.
Huge fan – walking advertisement and always happy to tell the MAA -Lab Naturals story."
-S.L.
---
9/21/22
"Our wonderful veterinarian, Dr. Linda Mathias of the Point Breeze clinic, recommended your apothecary. A glutathione preparation (Ralphs Immunity and Inflammation Formula) was made for our 19-year-old indoor cat, Chalkie, in order to help treat what was referred to as a "lazy colon" causing constipation. After a month's use, not only was his constipation problem solved but to our great delight, there has been an obvious improvement in his general health! - something we were not expecting! He used to spend nearly all of his time sleeping, only getting up to eat which we attributed to his old age. Now he's much more active and awake more hours, and even sometimes gets into mischief the way he used to do in his much younger days He interacts with us more and has taken much more of an interest of his surroundings, with a healthy appetite and more circumspect use of his litter box. He really does seem to feel better all over and the change is remarkable. We can't say enough about how pleased we are with both this product and The Murray Avenue Apothecary..Honestly, it's like our nearly 20-year-old boy is like a feisty kitten again."
– L./R. D.
---
8/22/22
"The CBD and Ralph's Immunity/Inflammation Formula have worked well for Cali. I'm now giving her ½ dose of each and she's back to her old self with running, hopping up on the couch (or garden bench ), taking walks…She still shows signs of a 12-year old English Springer Spaniel, but is enjoying life so much more. Cali says thank you!
Thank you, Susan."
- L.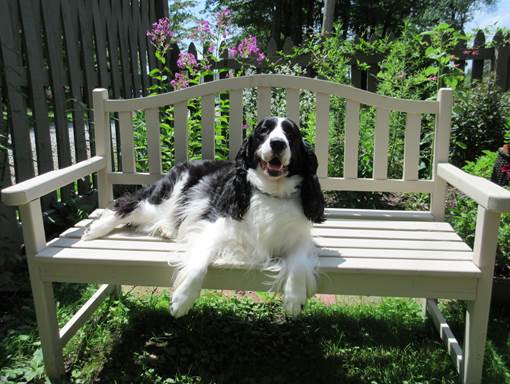 ---
5/11/22 (Ralph's Immunity and inflammation)
"I cannot believe the drastic improvement my dog is experiencing with this formula in just 10 days of daily use. She went from depressed and lethargic with loss of appetite and inability to jump or take the long walks we once did, to taking herself on an adventure into our woods, scaling a rocky wall to get back into our yard. This formula is magic and I'm so grateful to get more time with my best friend."
- S.
Update: 5/31/22
"This is my grand dog Sweet Pea who doing beautifully on Ralph's Immunity/ Inflammation Formula! Three weeks ago she couldn't walk well, wasn't eating, and was sadly going to be euthanized. One last hope…Ralph's Immunity /Inflammation Formula! Wow!"
- S.M.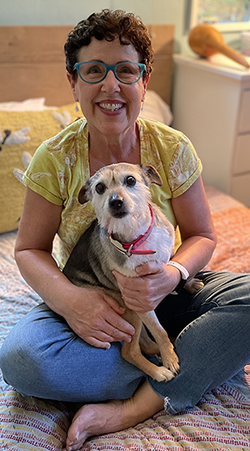 ---
4/5/22
"Kitcat is now on 1ml per day of Ralphs Formula and has been on that dose since you sent the previous larger 120ml bottle.
We are just about halfway through that bottle so can we please order another 120ml bottle of liquid acetly-gluathione 20mg/beta gluc 250mg/prob2bu/m& 'extra magnesium 10mg/ml' added for Kitcat like before with NO FLAVORING ADDED PLEASE, JUST PLAIN.
So exactly the same as the previous order. I am ordering sooner so I always have a supply here, as it takes a while to get here sometimes.
Thank you xx"
4/6/22 • Carley Kitcat's story continues..
"Ahh thank you, she's a really special cat. She was found at 2 weeks old so she's an ex-Ferrel in theory. They told me she wasn't going to make it as she was too small but I got up every 3 hrs through the night to feed her and now she's 11 this year. It took years for her to be cuddly due to her ferrelness but now she's very affectionate.
She's super clever, I slept in late this morning so to wake me and ensure I got up she dragged her claws down the oil canvas in our bedroom lol... such a diva.
She is looking a lot more healthy and her coat is shining since Ralph's formula and she's charging around the house like a horse."
- C.S.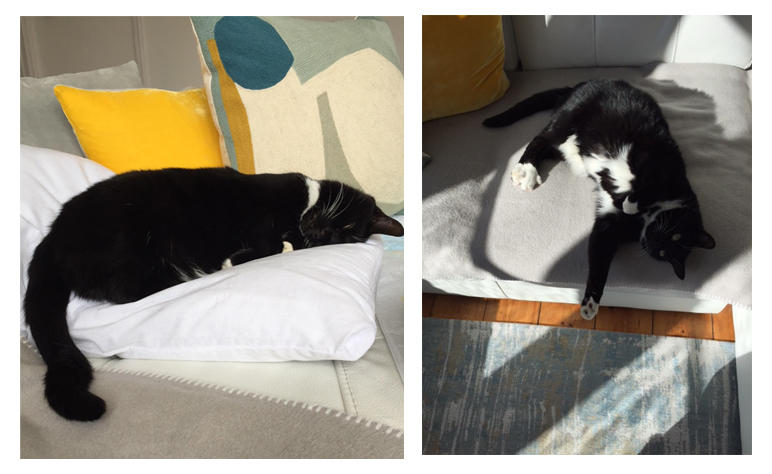 ---
5/9/22
Dear Susan,
Thank you for our pleasant talk today. It's nice to see an owner pitch in when necessary even though you are busy with other commitments. Your staff has always been so helpful to me and always friendly. Your apothecary has been a life saver for my rescue dog, Lucky. He has myasthenia gravis & megaesophagus which was diagnosed just 2 years ago & he will be 7 years old this July. I previously have needed your services. I am over my problem with you & your staff's knowledge. Thank you for being a local business with the concern of helping us all. I will continue to support you & sing your praises, Good Luck in all that you do.
Respectfully,
- M.U.
---
4/22
"Wednesday night I realized I ran out of doses of my LabNaturalsCBD and LabNaturals Acetyl-Glutathione before bed.
I have IBD (Inflammatory Bowel Disease) and although I have no current GI symptoms, it manifests in my jaw as a thumping dull pain.
Too lazy to go to the kitchen to get a dose I went to sleep without it. The following day (yesterday) I woke up with a medium to dull pain in my jaw and it lasted throughout the day.
Last night I took my normal dose of CBD and glutathione (before sleep) slept well woke up today with zero pain! No dull pain - nothing.—nada!"
- B.M.
---
3/14/22
"I am sending this testimonial in for your company's website as want to let you know that I had been searching for a long time to find glutathione for my cat who has had uncontrolled elevated liver enzymes for some time now.
I myself believe in the efficacy of glutathione as I have been taking it for 20 yrs and it has reversed my 'fatty liver disease' that was due to a genetic polymorphism I have, as well as having issues with glutathione transferase.
I was relieved to find your company, the only compounding pharmacist of acetyl-glutathione, which is easily absorbed into the cells. I was even happier when you said that you could supply it for my cat 'Kitcat', as well as tailoring it slightly for her needs and adding extra magnesium for her constipation. I was reluctant at first to have it when I found out that it had added probiotics, as Kitcat usually reacts badly to everything, but I took a leap of faith when you told me that the product which was the acetyl-glutathione mixed with the probiotic and beta glucans, was specifically designed for your own cat who had liver issues.
I started Kitcat on 0.5ml of the mixture and she's been on this dose for 2 months now. I have just increased her dose to 1ml as recommended to get her elevated liver enzymes down faster and will have her liver tested once I have given her a month of the 1ml dose.
I was never skeptical of Glutathione, as it has helped me so much, but I have to say that Kitcat, who was once a tired miserable poorly and unhappy cat who wouldn't let anyone near her, as she was obviously very ill, has perked up and is like a totally different cat. She's now affectionate, loving, happy and has even gone a full circle to the point of being a bit needy. Again, as I said I haven't had the liver enzymes checked yet to see if they have come down, but the difference is amazing. She's trotting around the house playing and is full of energy again. She is 11 this year and this transformation after taking this product is pretty remarkable.
Thank you for all of your help and advice and I will be continuing Kitcat on this medication for the foreseeable future."
- C.S.
---
3/4/22
Medication: Ralph's Immunity and Inflammation

"Thank you, I haven't had her liver enzymes tested yet but she's perked up and is like a different cat. Very affectionate and happy, also a bit needy now, whereas before very stand offish and always seemed unhappy.
Thank you for all your help as always x
Kind regards"
-C.S.
---
3/1/22
"In 1996 I was diagnosed with Crohn's disease. None of the treatments seemed to work during flare ups. The only drug that did work to control the Crohn's disease (during a flareup) was prednisone, a steroid with lots of side effects. For years, I would resign myself to having to take steroids to control a flareup. I took the advice of my clinical holistic pharmacist who suggested I try a dose of glutathione to replace the steroid during a flareup to see what type of reaction I get. My response was incredible I took a dose before bed, feeling very inflamed and sick, but, woke up the next morning with an 80% improvement in the flareup and did not have the sleepless night that would've been caused from the steroids!!!! Thank you thank you Murray Avenue apothecary and Lab naturals for making a suggestion!
One dose of the glutathione to control the flareup, with every bit as good as 110 mg dose of prednisone without side effects!"
-B.M.
---
12/11/21
Due to the amazing benefits of your Acetyl Glutathione I have seen, my husband is going to start taking it as well!
---
Barley's recovery story:
"Our precious dog Barley underwent surgery to repair a herniated disk caused by an acute injury and his long stature as a dachshund mix on June 28th, 2020. Luckily his grandmother is Susan Merenstein Pharmacist and Owner of Murray Avenue Apothecary and LabNaturals, Inc.
Immediately after surgery and thereafter we gave him LabNaturals CBD + Probiotic 30 BU everyday + Acetyl-Glutathione powder sprinkled on fresh food (Pawlicious) + physical therapy + TLC from his loving doggy parents!
He had a surgery wound from his neck to his tail which is hardly visible, his energy is great, and he is as loving as ever! Two months after surgery he is making progress every day to learn to walk again and his VET is thrilled with his progress! Barley wouldn't be where he is without his Dog Grandma "SuSu" cocktail."
- H.M.
✸ Update! ✸

"Today is my grand-dog Barley's one-year adoption anniversary from The Foster Farm. We are so happy to have Barley in our family and his amazing recovery continues to amaze me! After undergoing back surgery in June, Barley has shown remarkable progress with his recovery from a severe back injury.
He is walking normally and returning to his normal self again, thanks in big part to a healthy whole food diet from Pawlicious, LabNaturals CBD, LabNaturals Acetyl-Glutathione, and Probiotics from the awesome team at Murray Avenue Apothecary and LabNaturals.
Barley's Vet Dr. Winnie of the Greenfield Veterinary Hospital said he is SUPER IMPRESSED with Barley's neurological function and passed his exam with flying colors. He said his ears are much better and showing limited signs of allergies.
Dr. Winnie is amazed by his progress with walking!!!!!
Love you so much Barley-my adorable grand-dog!"
- S.M.
---
Naturopath
"My name is Ted Keller RPh. I did not invent Acetyl-Glutathione; however, I have taken Acetyl-Glutathione longer than anyone on the planet, 19 years to be exact, and I am the first person to bring this product to market.
I am 72 years old, male, 5'9", weigh 165 lbs., 34" waist. I have normal blood pressure, normal blood sugar, normal free hormones, same levels as a 40-year-old male, suffer no ED, no joint pain, no loss of bone or muscle mass, normal telomere length for a 40-year-old, normal growth hormone levels, normal thyroid levels. I have had no bone or muscle loss in the 19 years. I train in martial arts and regularly spar with men 50, 40, and 30 years younger than me and I can compete. I have 27% less heavy metal concentration on average, no calcification of coronary or carotid arteries. I have not had any cold sores in 19 years, and as an aside, people with herpes Simplex 1 are more prone to Alzheimer's disease, according to the Cleveland Clinic. I have no macular degeneration, better hair growth, normal hearing, fewer eyeglass prescription changes - 2 in 19 years. I have longer eye lashes, fewer wrinkles and younger looking skin. I require no/little sunscreen when exposed to the Colorado sun – I don't burn. I have not had any significant dental work in 19 years, my gums are in excellent condition. No COPD symptoms even after smoking for 25 years.
Before starting the daily dose of Acetyl-Glutathione; these were the problems that I faced: Blood sugars slightly above normal, blood pressure slightly elevated, gout, occasional atrial fibrillation, elevated cholesterol, elevated triglycerides, occasional insomnia, the beginning of COPD problems, low energy, adrenal fatigue, 3 pm crash daily, no physical stamina, heavy metal contamination, one or 2 cold sore outbreaks per year, very thin eyebrows and eye lashes, gums soft and receding.
I attribute my excellent health to Acetyl-Glutathione supplement!"
---
Palmitated Glutathione
"My daughter started using the Glutathione. From the first pea sized application, she was pain free for the first time in years. We've waited this long to let you know to see if it was just a fluke, as nothing has ever taken her pain away. It works. It does not reduce the inflammation; it does take away the pain completely. Thank you so much. She called me at 4:00 am, crying, a day or two after I gave her the cream. Needless to say, the call scared me. She said, "Mom, my pain is gone." We stayed on the phone until 8:00 am or so to make sure it was really gone. We couldn't believe it."
- A.
---
Topical Glutathione/Magnesium
"This compound [Glutathione/Magnesium Cream] is totally amazing! I rub a small amount (dime sized) onto either leg before I go to bed and those horribly painful leg cramps are completely gone. Before I found out about this topical cream, I was plagued almost every night with painful leg and foot cramps that would wake me up at night. I would stumble around stretching, massaging and literally crying with pain and then try to get back to sleep. At first, I thought this cream was just a placebo effect when these cramps vanished, so just to test it out further, I was traveling with a friend and she was getting up at night with the same kind of leg cramps. So, I gave her some of my glutathione/magnesium cream and she was astonished by the results. When I returned to Pittsburgh, I sent her a bottle of the cream. Now, she too can't live without it. Such a simple, effective, miraculous cure. I've been using it for a year now and it continues to work! Thank you for this gift of sleep - pain free!"
- N.S. (Pittsburgh, PA)
---
Acetyl-Glutathione Oral
"I came to see Susan about Menopause, Fatigue, Fibromyalgia and Arthritis. I was given DHEA with Pregnenolone and Progesterone. Since July 2014, I have more energy. I have lost 4 dress sizes, and my mood is better...I can ride my bike for much longer periods of time, and now with Acetyl-Glutathione, my asthma has improved exponentially."
- A.M.
---
Lyme Disease
"Thank you, Susan, for your wise guidance during my intense bout with Lyme Disease. The lingering fever, intense headaches and night sweats greatly affected my TSH score. When my doctor suggested I increase my thyroid medicine, you strongly suggested I wait. You supplied me with Allicillin (garlic) Pro and Glutathione to help me through 3 months of doxycyline. Now I am back better than ever and thankful for the vibrancy that comes with good health. I am also thankful for you, your smart guidance, years of experience, and wisdom."
- E.C.
---
Breathing/Lungs
"I was singing at home, alone to a CD when I realized I could sing longer and breathe better after taking the Acetyl-Glutathione. I also have no wheezing when I ride my bike in cold weather, and it feels like I could wean myself off my inhalers. I also have improved circulation...Without you folks, I would be a basket case."
- A.M.
---
Smelly Feet/Topical Glutathione/Magnesium
"Let me preface this that I am borderline "clean-freak"... I was raised by a mother and grandmother who were proud card-carrying members of the clean freak organization. I have been married to a clean freak for nearly 3 decades. Here is my story: a few weeks ago, I went for a swim on a huge lake up north. It was a hot humid day, and my feet (wet from the lake) went quickly from my flip flops to my running shoes. I trudged from the lake to the beach to my car. While driving the two-hour ride home, I began to smell a strong odor. I checked my pits, and even sniffed into my swim trunks... Everything checked out...Fresh and clean as always. Then I slipped off my running shoes...That was it...My shoes stunk. The smell was so bad that I threw my Nikes away. I could still smell the odor on my feet. I couldn't wait to get home and hop into a hot shower. I shaved, shampooed, and scrubbed. I stepped out of the shower and to my despair the odor was still there. This went on for days... I tried Dr. Scholls foot spray deodorant and a huge assortment of powders. Nothing worked. I smelled clean and fresh as always, but my feet stunk. I tried desenex and that did nothing. There was no visible rash or wound just horrible stinky feet! I googled stinky feet and basically was advised to consult your pharmacist. I went to the local supermarket pharmacy. After waiting to talk to a pharmacist for 15 mins. I was embarrassed discussing my stinky feet in front of the many grocery shoppers. I was advised to try Dr. Scholls foot spray deodorant. When I told her, I had already tried that to no avail, she just shook her head and said" I have a lot of customers waiting for medications, I have to go". I thought, I can't spend the rest of my life with horrible stinky feet...I tried the local apothecary. Murray Avenue Apothecary to be exact. There the helpful pharmacist, took me into a private consult room, where I did not have to shout to the pharmacist so that people could hear me in can goods. I explained my situation, and the pharmacist said "she was confident that we could be rid of that odor in about a week. "She said it was probably bacterial. She suggested I wash my feet twice per day with astringents such as tea tree oil or witch hazel. She said after washing apply two pumps of compounded glutathione and magnesium cream to my feet (also twice daily). She said to purchase charcoal shoe insoles, and to change shoes as much as possible. Here is the great news... After only 3 treatments of witch hazel and the glutathione-magnesium (1+one half days) ...the odor was 100% gone.

Thank you Murray Avenue Apothecary - now I can take the family trip to Japan and customarily remove my shoes without offending anyone!"
- B.M. (Pittsburgh, PA)
---
Hemorrhoids/Topical Glutathione/Magnesium
"Amazing product!! Hemorrhoids were inflamed, swollen, bleeding and I was miserable. Used this topical cream on them. Stung for a few seconds the first couple of days, but not "unbearable" (especially for the relief and fast results I obtained). Back to normal in a couple of days! I also use this lotion as a deodorant. Blows my mind that this kills the odor all day like it does. I have tried other natural deodorants, but there's nothing on the market that I've tried like THIS magic potion!!! Love, love, love it. Love the skincare line too! Great products – great customer service – great company! Give it a try. So many other uses for the Glutathione/Magnesium cream too. Best regards."
- P.B. (GA)
---
Ralph's Inflammation/Immunity
"Stitcherella reacted to a flea infestation in our house July 2018. She developed an itchy scaly rash that sometimes caused her to bleed profusely after scratching her itchy skin. Starting September 2018, she was treated by a famous Veterinarian. She was treated with massive amounts of steroids – and she got 20% worse. I started the above medication (Acetyl. Glut. 50mg/Beta Glu 250mg). – not only did she improve, but she liked the medicine. I stopped for a while then started again. She is now 120% better. Thank you, Susan."
- C.E.
---
Lymphoma in a Cat
"About 8 months ago, our 12-year-old cat Abby developed a terrible gastrointestinal problem, after being diagnosed with Feline Lymphoma, resulting in horrible accidents and depression. Our vet, who has been so wonderful and only wanted Abby to be healthy, began a regimen of steroids and diet changes. Abby become very lethargic with a very sad quality of life. The situation became dire, it was suggested that Abby was too stressed and it may be time to end her misery. We knew Susan at the apothecary was a genius with her compounding. It was worth a conversation with her before we made our decision. Susan had suggestion we try Acetyl-Glutathione for Abby. We started a regimen in her food with a flavored liquid. Not feeling optimistic, we continued......Within a week Abby was acting like her playful self!!!! We were shocked and amazed!!! Her condition will never be cured, but she has no accidents and certainly has a wonderful quality of life. Our vet was so supportive and thrilled for us and Abby, she now recommends the apothecary for her clients. We are ever so grateful to Susan, owner of Murray Avenue Apothecary for her visions to give her humans and animals a healthy and happy life outside of the traditional box. Please trust that there are other options!!"
- A.
---
Arthritis
"My 12-year-old large 90lb. dog has severe arthritis to the degree she has episodes where she cannot stand or walk. During one of these episodes, she slipped down the steps, causing her to limp from the injury. Murray Avenue Apothecary recommended ABSORBABLE LabNaturals Glutathione, and within 2 weeks of taking the Glutathione she stopped limping. She is visibly stronger and in much less pain. Thank you MAA, you saved my dog!"
- A.
---
"Several years ago, I developed a nasty breakout on my right buttocks. The dermatologist diagnosed this as a herpes breakout, although the biopsy was inconclusive. (The lesion measured approximately 2x3 inches). After speaking with Susan, she recommended applying Glutathione Cream. After several applications, the lesion decreased in size in just a few days. I applied the Glutathione Cream as directed every day, even when no lesion was there. I continued to get the breakouts off and on for about a year. Each time, the breakout was smaller and healed more quickly. When I didn't have a breakout for six months, I stopped the cream application. It's now been about two years with no re-occurrence. I owe this all to Susan Merenstein at the Murray Avenue Apothecary and her great advice."*
- A.
---
"This [Glutathione/ Magnesium topical] compound is totally amazing! I rub a small amount (dime sized) onto either leg before I go to bed and those horribly painful leg cramps are completely gone."
- A.
---
*In accordance with the FTC guidelines concerning the use of endorsements and testimonials in advertising, please be aware of the following:
Testimonials appearing on this website are received in various forms via a variety of submission methods. The testimonials reflect the real-life experiences of individuals who used our products and/or services. However, individual results may vary. We do not claim, nor should the reader assume, that any individual experience recounted is typical or representative of what any other consumer might experience. Testimonials are not necessarily representative of what anyone else using our products and/or services may experience. The results may vary. The testimonials displayed are given verbatim except for grammatical or typing error corrections. Some testimonials may have been edited for clarity, or shortened in cases where the original testimonial included extraneous information of no relevance to the general public. LabNaturals, Inc. is not responsible for the opinions or comments posted on this website, and does not necessarily share the opinions, views or commentary of postings on this website. All opinions expressed are strictly the views of the poster or reviewer. All testimonials are reviewed for authenticity before they are posted for public viewing. Testimonials on this website are not intended, nor should they be construed, as claims that the products or services mentioned can be used to diagnose, treat, cure, mitigate or prevent any disease. To the contrary, our products are not intended to diagnose, treat, cure, or prevent any disease. No testimonial has been clinically proven or evaluated, and no medical claims whatsoever were made and no statements on this website have been evaluated by the FDA.